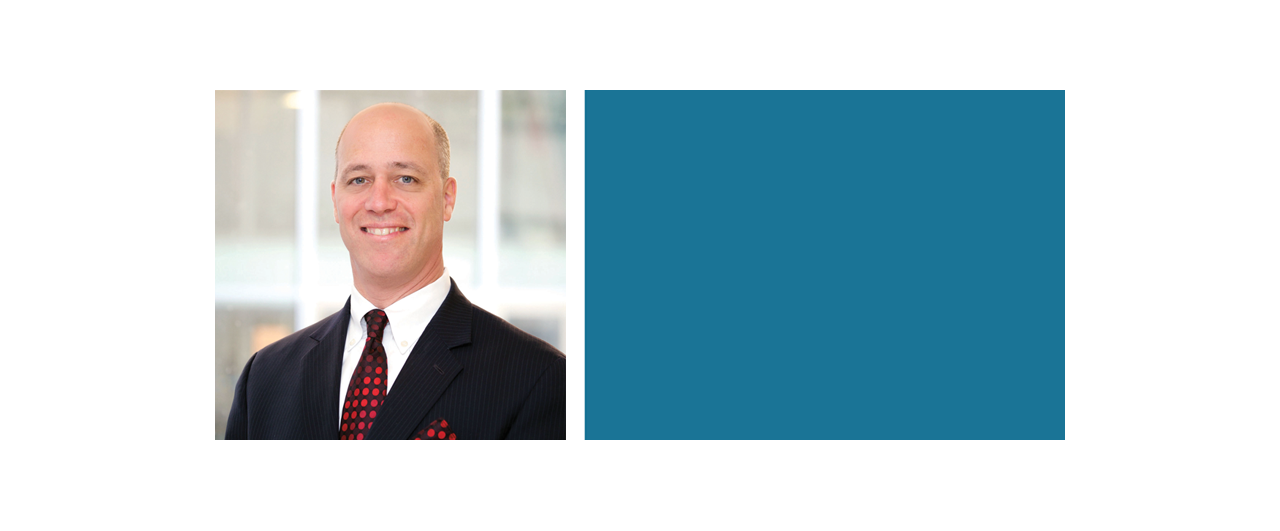 Michael J. Fosina, FACHE, president, NewYork-Presbyterian Lawrence Hospital, Bronxville, N.Y., and senior vice president, NewYork-Presbyterian, New York, assumes office March 21 as Chairman of the American College of Healthcare Executives at the annual Council of Regents Meeting during the 63rd Congress on Healthcare Leadership in Chicago.

In his role as Chairman, Fosina looks forward to helping ACHE in its efforts to add value for early careerists, engaging senior executives to mentor the next generation of leaders and examining the role we play in an international context.
What attracted you to the healthcare management field?
During my first semester at the Columbia University Mailman School of Public Health, I took a class in hospital administration, and I became completely fascinated by the field. The challenges, the ongoing changes, and the goal to improve the health status of the local community—and to truly be a trusted member of the community—fascinated me, and still does.
What was your goal when you began your career in health management?
I always knew I wanted to be the president of a hospital to advance care for patients, but I knew I had a lot to learn about the field, such as how hospitals operate, how to manage physician relationships and how our institution can affect the community, specifically its overall health.
Early in my career, I worked in different departments throughout the hospital, especially in those with which I was least familiar. As I moved from department to department, which the executive team supported, I learned a great deal about leadership. For example, each time you work in a new department, you have to assume a different style of leadership.

How has ACHE contributed to your success?
ACHE has contributed tremendously to my success and career. Steven J. Corwin, MD, the current president and CEO of NewYork-Presbyterian, encouraged me to join. I took his advice, and for the past 20 years, I have benefited greatly from the educational opportunities ACHE has provided.

The programs, products and services ACHE offers keep me current on trends and the direction of the field, and I tap into the wealth of knowledge of the many friends I have met. This network allows me to learn about what someone else is going through, which helps me to think about how I can bring that knowledge back to my own organization. I am grateful for ACHE.

What challenges are you facing?
This is a complex business, and change happens fast. Revenues are tight, and external factors outside of our control put pressure on our organizations to do more to help our communities with socioeconomic issues like housing and education. These things affect the health of the community you serve.

A few of the challenges hospitals face today are: how we address issues for which we receive no funding; how we improve the health status of our community and resolve current disparities in healthcare and health coverage; and how we work with legislators to help solve issues with education and housing that impact health.
How have you seen the healthcare management field change?
Reimbursement has changed and affected how we manage care. We are now seeing reimbursement for value-based purchasing as the healthcare field shifts from volume to value. Our goal now is to manage the continuum of care, not just individual episodes of care. We want to prevent readmissions, be consumer-centric and care for patients in a more cost-efficient manner.

We also are moving into an age of digital technology that will allow us to keep patients from returning to the hospital by monitoring their care remotely over the long term.

How do you expect the field to change in the future?
We are going to experience more advances in pharmaceuticals, biologics, automation, digital care and medical technology. In addition, the use of artificial intelligence, imaging, diagnostic testing and technology-enabled doctor-to-patient interactions will progress. It is going to change how we do business and move forward. We also are seeing more of a shift from inpatient to outpatient procedures. That change means there is going to be more access to care and a greater need for more communication and collaboration between providers. That is going to be critical.

We should also expect to see changes in our workforce. Positions are going to shift, and it is going to be critical that healthcare leaders communicate with the workforce about plans to retrain them.

What do you expect the new challenges for healthcare executives will be?
They will have to get comfortable with the unknown. Disruption is coming, and as healthcare executives, we should prepare for the certainty of rapid change. We also should adjust our management style to be influencers rather than practice command and control. Healthcare systems are growing, and the continuum of care is changing for everyone reporting to you. We should be able to adapt to communicating, motivating and consulting with people.

We also should deal with the cost of healthcare for the benefit of the patient and the country. Medicare and Medicaid are huge expenses for taxpayers and the government, and we must help the country resolve the economic sustainability of these programs.

Another challenge is that of getting to zero harm, not just for our patients but also for our employees. No patient should get an infection or be harmed in the hospital because of a medical error; we must do a better job of preventing that, and deal with it quickly. Similarly, no employee should be harmed. We have to address various issues such as ensuring we have appropriate safety features in place so our workforce is safe. That is why ACHE's collaboration with the IHI Lucian Leape Institute to help healthcare leaders lead for safety is so important.
What competencies are needed to address the challenges of today and tomorrow?
Healthcare executives should be strategic thinkers who understand the community they serve and are able to develop relationships with community leaders and other organizations to address the health of their community and improve quality of life. There is a need for visionary leaders who can provide a strategic direction for their organizations and understand how to execute it properly.

What has been your most rewarding experience?
Working my entire career at NewYork-Presbyterian has been a great honor and pleasure. How rewarding it has been to learn, grow and expand my role while working at an organization considered to be one of the top hospitals in the country. The organization is incredible, and it humbles me. I started out as a technician while attending graduate school. Then, I became an administrative resident and served in a variety of administrative roles with expanded responsibility on different campuses to become the president of one of the hospitals.

I participated in the merger of the former Columbia Presbyterian and New York Hospital, which was endlessly fascinating to me. At that time, I was a young administrator, so being part of the merger of those two organizations 20 years ago was one of the most educational and rewarding experiences of my career.

I am grateful for the support that Dr. Corwin and Laura L. Forese, MD, executive vice president and COO of NewYork-Presbyterian, have given me over the years as my role expanded. They have also supported my involvement with ACHE as a Regent, Governor and now as Chairman.

I do not want to underestimate how rewarding it is and how honored I am to become the Chairman of ACHE. It is a fabulous organization, and it has helped me grow throughout my entire career. I am grateful to have learned from past Chairmen, Governors, Regents and President and CEO Deborah J. Bowen, FACHE, CAE, and her team. It has been a privilege to be a part of these two organizations, and I feel very lucky. This upcoming year as Chairman is going to be very exciting for me.

What has been your most challenging experience?
Changing a culture is the hardest thing any executive is going to do. As leaders, we can set a vision, but unless our staff embraces it, and are engaged in helping to facilitate the change, it will not happen.

When we acquire a hospital, we have to get a certain level of employee engagement so they are willing to participate in making changes that are going to be necessary for the success of the organization. I have had the opportunity to participate in several mergers, and the willingness of staff to engage varies greatly.
The key is to determine the culture and to use persuasive skills to demonstrate that what you are doing is in the best interest of the organization, the community, and ultimately, the staff. You have to be able to build trust and be authentic. Both are critical to changing a culture and being a leader.

How does ACHE help healthcare executives address the challenges they face?
ACHE is our professional organization, and it is necessary for our growth and continuing education. ACHE helps us develop our leadership skills and advance our career. It is remarkable how ACHE's Department of Professional Development keeps up with changes in the field, offering seminars on relevant topics. They engage knowledgeable faculty and executives from around the country so we can learn from each other.

There is a lot of diversity in our institutions and the communities we represent. The unique parts of the country spawn different ideas, and ACHE helps bring them together through its various networking and learning opportunities like Congress. These different avenues allow healthcare executives the opportunity to learn from others and helps drive improvements. ACHE is a convener, a partner and a network that enables us to learn from our colleagues. ACHE cannot guarantee somebody a job, but it can help open doors. That is the important piece.

How is ACHE evolving to meet the needs of our members and providing value to them?
We are always thinking about "How do we add value for our members?" For example, we are developing a more personalized educational platform, which differs based on each individual.

ACHE is always proactively thinking about how to add value for senior executives and early careerists and how senior executives can engage with early careerists. Ultimately, they are going to lead our field. We are stewards of the healthcare profession, and we need to educate early careerists to ensure they are knowledgeable. ACHE is helping to do that by engaging senior executives to mentor emerging leaders as they did for me. Mentorship is important. My very first mentor told me, "I am opening the door for you. Your job is to open the door for the next generation." That is how this works, and I have never forgotten that. Always take time for an early careerist who has a question or who is seeking advice, as we need to ensure we leave our field better than when we started.

What issues are you committed to addressing during your term as Chairman of ACHE?
Key issues I will focus on are making sure we add value for our early careerists, engaging our senior executives to mentor the next generation of leaders and looking at our role internationally as healthcare becomes part of a more global economy. We need to ask ourselves, "How does ACHE extend its mission to advance leadership in other parts of the world?"

Lea E. Radick is a writer with Healthcare Executive.

Editor's note: Fosina will present his Chairman's remarks at the Opening Session of this year's Congress on Healthcare Leadership on Monday, March 23, in Chicago.
Work History
2015–Present
NewYork-Presbyterian/Lawrence Hospital, Bronxville, N.Y.
Senior Vice President/President
2013–2015
NewYork-Presbyterian/Lower Manhattan Hospital, New York
Senior Vice President/COO
2000–2013
NewYork-Presbyterian Hospital/Allen Hospital, New York
Vice President/Executive Director
1998–2000
NewYork-Presbyterian Hospital, New York
Director, Integration and Accreditation
1990–1998
The New York Hospital—Cornell Medical Center, New York
Director, Ambulatory Care (1996–1999) Administrator, Ambulatory Care Services (1994–1996) Director, Clinical Subspecialties (1992–1994) Professional Services Coordinator (1991–1992)Administrative Resident (1990–1991)
1985–1990
Columbia Presbyterian Medical Center, New York
Senior Laboratory Technician, Clinical Holter Laboratory

Research Technician, Research Holter Laboratory
Laboratory Technician, Signal Average Laboratory
ACHE History
Chairman, 2020–2021
Chairman-Elect, 2019–2020
Governor, 2016–2019
ACHE Regent for New York—Metropolitan New York, 2013–2016
Education
MPH, Columbia University, Mailman School of Public Health, New York
BS, University of Delaware, Newark
Congressional Fellow (2011–2012)
Atlantic Philanthropies Health and Aging Policy Fellow (2011–2013)
Current Affiliations
Board Member, Business Council of Westchester
Board Member, LiveOn NY (Council of Senior Centers)
Board Member, Silvercrest Center for Nursing and Rehabilitation
Board Member, University of Delaware, College of Health Sciences
Fellow, New York Academy of Medicine